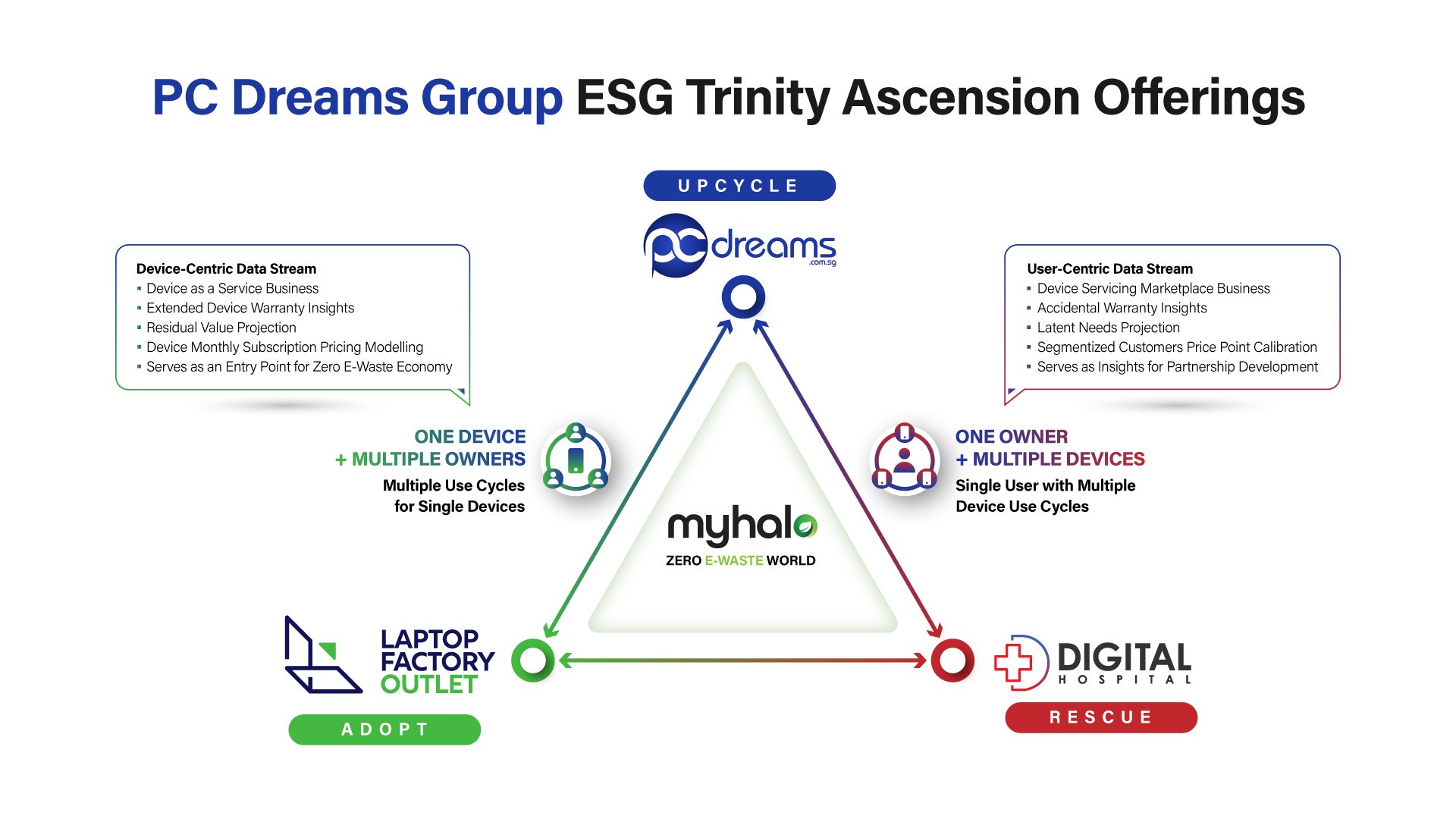 PC Dreams Group believes in a zero e-waste word. Our passion led us to be Singapore largest reseller of premium in-circulation consumer electronics such as smartphones, tablets, laptops and desktops.
Our mission is to remove risk while offering fair value when it comes to purchasing or disposing of in-circulation consumer electronics. We achieve this by working with our stakeholders, the consumers and recyclers of consumer electronics within the PC Dreams Ecosystem.
Each of our subsidiaries, myhalo CircularXchange, PC Dreams, Digital Hospital and Laptop Factory Outlet, serve a unique function in the sustainability ecosystem; to repair, redistribute and recycle inventory.
Our strength lies in our robust process of accessing the value and evaluating its market value. Our granular evaluation model is supported by over a decade of repair data, giving us an edge in offering fair pricing that benefits our stakeholders, both consumer and recyclers.
PC Dreams is in the business acquiring and distributing premium in-circulation consumer electronic products such as smartphones and tablets. Digital Hospital is a full-fledged service centre with the capability of repairing and upgrading the IT inventory. Laptop Factory Outlet is a dedicated channel for the distributing of our Premium Refurbished Laptops and desktops. Our group of companies are aligned with our business philosophy.
We are especially proud of our "Fairness by Transparency Philosophy", achieved by placing our inventory through our audits, which consist of comprehensive checks, up to 30 points.
By serving the market as a platform where fair value is achieved through transparent pricing, PC Dreams Group can reach markets at blazing speed while simultaneously acting as a disposal channel for recyclers.
With PC Dreams, each consumer and recycler can purchase and dispose of their electronics with confidence and peace of mind.
We've always been obsessed with empowering people with technology.
CORE PHILOSOPHY
"Do not Profit from Ignorance"
The company started from humble beginnings from a hostel dormitory in a local university, helping fellow students with their laptop and desktop issues. Mr Tan realised that laptops and desktops are tools that can cause great distress to their users should they malfunction. This places the distressed users at a vulnerable position when seeking solutions to their IT issues. Mr Tan, the founder of PC Dreams experienced first hand how his friends and referrals where brutally overcharged for seeking repair services for their malfunctioning devices. From that genesis point, the seed that would become the largest online marketplace for in-circulation digital devices was planted.   Since then, the approach has always been education and enlightenment. Centred around the adage, "Do not Profit from Ignorance". Over the years we have discovered some insights after engaging and educating our customers. Our senior team discovered that consumers are not aware of the impact their IT consumption patterns have on the earth. As a conscious company and the market leader in the sale of in-circulation digital devices.  As with all missions and visions, they evolve over the years to meet the challenges of the world and the ever-evolving business climate. Mr Tan believes in a world where people treat electronic wastes or E-waste with the respect they deserve, envisioning a Zero E-waste World (Z.E.W). Hence, our vision statement is, "Towards a Zero E-Waste World".
OUR MISSION
Educate People, Involve Businesses. 
The key mission of PC Dreams Group is to keep as many devices and as many of their components away from landfills and incinerators. Keeping them above ground and in circulation for as long as the economy will have them. We achieve this by offering our customers a seamless experience in owning and using Zero E-Waste Devices or ZEDs and by integrating our systems with strategic partners who are able to increase the catchment area for in-circulation devices. We are committed to ensuring that our customers make informed decisions when it comes to purchasing, repairing, and trading in their devices. We also offer our loyal customers a platform where they are rewarded for their efforts towards a more sustainable future. PC Dreams Group will also involve strategic partners in businesses that are consumer-facing as Zero E-Waste Ambassadors; offering businesses financial incentives to promote trading-in as a digital lifecycle practice.
STATEMENT OF VALUE
We help socially conscious and price-sensitive individuals express their sustainability philosophy in a more complete way by offering them Zero E-Waste solutions and devices to suit their IT needs.