January 25, 2021
Posted by:

admin

Category:

Tech news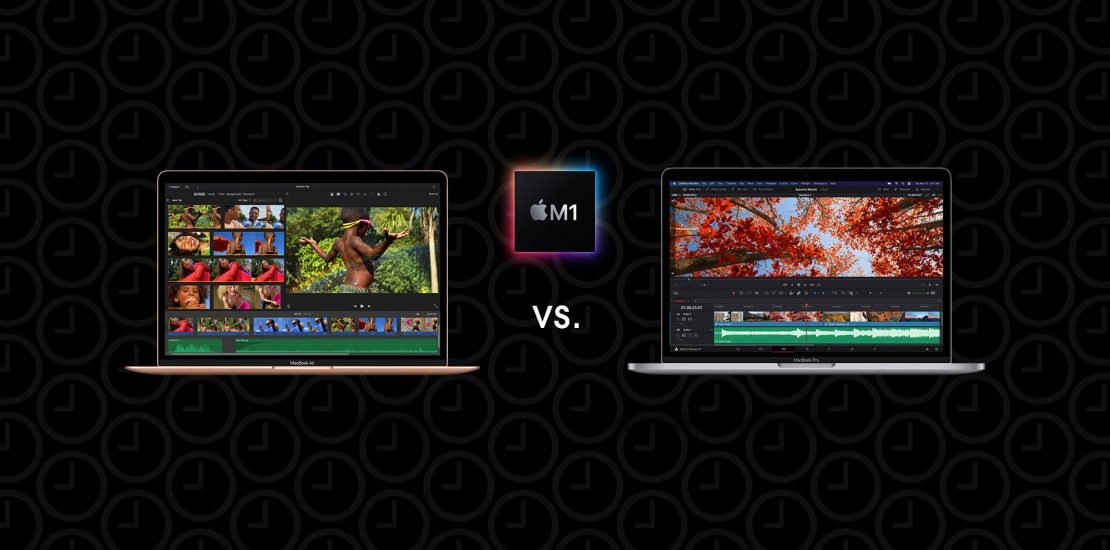 When Apple came up with the latest M1 MacBook Air, there was an air of confusion that surrounded the launch of the product. As the market wondered why an M1 MacBook Air which appears to be so similar to MacBook Pro is being brought in the market. So much so that, the base price of the two is the same that is $999. But, it is important to clear the air regarding MacBook Air M1 vs MacBook Pro M1 Full Comparison because there are some real notable differences that must have your attention.
Differences worth noticing
The first notable difference that we see in both M1 MacBook Air and MacBook Pro is in their Graphics Processing Unit. At one side where the 13-inch M1 MacBook Air comes with the variation of 7 or 8-core GPU, on the other hand, the 13-inch MacBook Pro comes only in 8-core GPU.

Next difference in line is about the Thermal Management system in our blog – MacBook Air M1 vs MacBook Pro M1 Full Comparison, where M1 MacBook Air is completely fan less on the hand, MacBook Pro has a fan that is capable of providing an active cooling system.

Now we will talk about the difference of speaker quality in M1 MacBook Air and MacBook Pro, the M1 MacBook Air has Stereo speakers which are capable of providing wide sound and it has the support of Dolby Atoms, when we see the speakers of MacBook Air we will find that they also have a stereo speaker but with high dynamic sound range along with wide sound capability and it is also supported by Dolby Atmos.

Next difference to be noticed is in the mics of M1 MacBook Air and MacBook Pro. The M1 MacBook Air has three mic array and it has directional beamforming, on the other hand, the mics of MacBook Pro also have three mic array which can provide studio quality and they also have directional beamforming.

The more we go in details the more difference we are sure to encounter like if we talk about the brightness of the two devices we find a significant difference there because the brightness in terms of Nits is 400 for M1 MacBook Air and the same brightness in terms of nits stands at 500 for MacBook Pro.

There was news that circulated in recent days that Apple will remove the touch bar from all its models in future so we see the glimpse of it in the M1 MacBook Air as there is no Touch Bar in this model but yes the MacBook Pro does have a touch bar. This is one big difference when it comes to MacBook Air M1 vs MacBook Pro M1 Full Comparison.

Now let us talk about some difference here and there like the weight of MacBook Pros is more comparison to M1 MacBook Air, next, we talk about the color variants in which these two devices are available although the color variants are almost same the gold color variant which is available for the M1 MacBook Air is not available for MacBook Pro.

Another big difference that will draw your attention is battery life, the M1 MacBook Air has the battery capacity of 49.9 watt whereas the same stands at 58.2Wh. Having considered this fact it is not difficult to analyze that battery life in terms of wireless web battery and movie playback has to do more of MacBook Pro. Moreover, there is a huge difference between the power adapter available with these two devices like there is 30W power adapter available with M1 MacBook Air and almost double capacity of power adapter that 61W is available with MacBook Pro.
MacBook Air M1 vs MacBook Pro M1
Initially, we talked about the confusion that surrounded the launch of M1 MacBook Air calling it exactly the same like MacBook Pro, but as we proceeded we encountered a number of differences between these two devices when researching about MacBook Air M1 vs MacBook Pro M1 Full Comparison some of them were a minor difference and some really big and significant differences. The point is we started this article with an intention to clear the doubts about these two devices being the same. Hope we could clear much of your doubts and now you will able to judge better keeping in mind these difference and make you're buying any of these laptops a satisfying experience.